CATEGORY
Creators
DATE
15 March 2023
AUTHOR
OMG_Chris
READ TIME
5 mins

tl;dr: We're gonna give you cool, valuable stuff just for making Spellcraft content. Join the Creator Program!
The Spellcraft Creator Program is our way of saying "OMG THANK YOU!!!1 😍😍😍" to content creators like you for everything you do to support games like ours.
If you're accepted, you'll be able to earn the right to exclusive perks if you make content in support of our public alpha between April 6th and 16th, 2023:
Exclusive first-look at Spellcraft prior to public alpha
Limited edition purple dragon companion, exclusive to creators
$200 of in-game content
A chance to get your emote in the game if you're among:

The top 3 streamers by Spellcraft hours streamed
The top 3 participating creators by rank during open alpha

Content delivered by Spellcraft's launch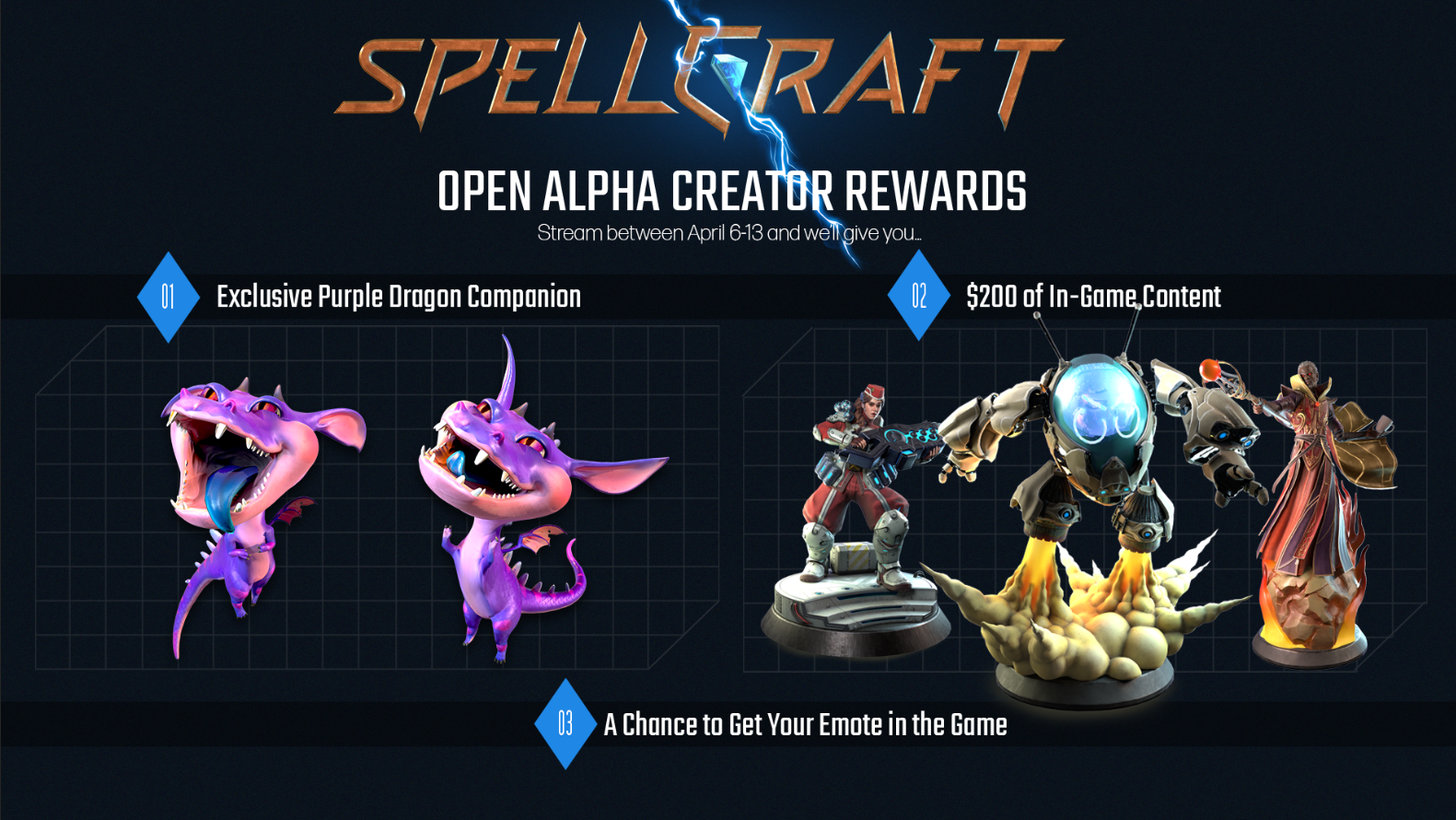 Later, when Spellcraft launches, we'll give members of the Creator Program valuable in-game rewards like skins, emotes and banners just for creating content about Spellcraft – like streaming and making YouTube videos. And if you've built a big community, we'll give you content you can reward your fans with, too.
Spellcraft Creator Program Benefits
The Spellcraft Creator Program will fully launch when the game comes out of beta, and full details about rewards and requirements will be detailed when it's ready. But if you join, you can expect these benefits and more:
Creator-exclusive content: You'll get exclusive stuff that's only available to members of the program.
Stuff for your viewers: We'll give you keys for all kinds of valuable in-game goodies that you can distribute to your viewers.
Promotion: We'll put program participants' content in front of the Spellcraft community, helping you grow your audience.
First-Looks: You'll get to see and play new Spellcraft content before anyone else.
Dev Access: You speak for the community, and we'll give you a direct line to the devs to share feedback and get your questions answered.
You give games life
These days, we really couldn't make a game without you. Your viewers look to you when they decide what games to play – and there are so many games to play. You're a true gaming expert, and the feedback you offer makes games better. And you're a community leader – educating, entertaining, and organizing players around the games you play, keeping them relevant and fresh.
So when we started working on Spellcraft, we knew we wanted to recognize how critical you are to making the best game we could. That's why we came up with the Spellcraft Creator Program.